ALTERATION TAILORING
What doesn't fit will be made to fit
The right fit of equipment and clothing is essential for protection, warmth and freedom of movement. Compromising on this point is not productive and can quickly spoil the fun of the product. To avoid this, the Bayard sewing studio offers you an all-round service for alterations, repairs and adjustments.
From summer sportswear to winter jackets and ski trousers, you can have your product altered as desired in our in-house alteration workshop. Using high quality and durable materials, every concern is solved here: shortening and skipping garments is just one of many options here to ensure the best possible fit.
Find shops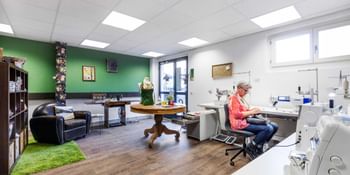 THE NÄHATELIER OFFERS YOU THESE ADVANTAGES
INDIVIDUAL ADAPTATIONS
Products are individually adapted to your wishes and body measurements. That way, the garments always fit like a glove.
MANY YEARS OF EXPERIENCE
All Our expertise in this field is based on years of experience. Regardless of the requirement, the change request becomes a reality.
HIGH QUALITY MATERIALS
The selection of the appropriate material depends on the original product. Here we work exclusively with proven premium materials.
EXCLUSIVELY HANDMADE
The desired changes and adjustments to the products are carried out manually. Quality consciousness is in the foreground.
THE RANGE OF SERVICES IN THE TAILORING STUDIO
You can take advantage of these offers in our tailoring studio
The services we offer in our sewing studio are just as individual as our customers' products. This is the only way we can ensure that we can meet every alteration request and adapt the clothing to the customer. In concrete terms, the portfolio can be divided into three different service areas:
Alterations
Repairs
Adaptations
THE ALL-ROUND SERVICE PACKAGE RIGHT FROM THE MOMENT OF PURCHASE
For our customers and those who would like to become one
At Bayard, we aim to provide the best possible shopping experience. If you find a product in our shop that doesn't fit you perfectly, it can be adjusted directly in our tailoring studio in Zermatt. This means that you don't have to have it adjusted in a separate shop, but can take advantage of our comprehensive service.
However, the services offered by the tailoring studio are not limited to products or clothing purchased from Bayard in the shop. If you would like to have a garment altered or repaired that was not purchased at Bayard, this is of course also possible. We look forward to your visit to our tailoring studio.