Ski & Snowboard rental in Zermatt
Wide range of different categories and models available for rental
Located in the heart of the Alps, Zermatt is a true paradise for skiers, snowboarders and freeriders. To make the most of the varied pistes and powder spots, the perfect equipment is crucial. You're sure to find what you're looking for at Bayard's ski and board rental.
From tried and tested classics to sporty models for slalom, downhill and giant slalom to exclusive premium models, you can choose the category that suits you best. We also offer a wide range of snowboards.
You can easily rent the desired equipment online and pick it up on the first rental day (depending on the shop you choose) at Bayard Rental at Bahnhofplatz or Bayard Rental Sunnegga.
Note: We offer this service at the Bayard Shop at Bahnhofplatz and at Bayard Sunnegga.
Find shops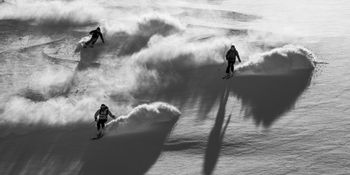 THE SKI AND SNOWBOARD RENTAL OFFERS YOU THESE ADVANTAGES
PICK UP THE DAY BEFORE FROM 3:00 PM
You can already pick up your reserved equipment the day before the rental starts at 15:00 in the selected shop. This allows you to go straight to the lift on the first day of the rental.
FREE SKI HELMET FOR ALL CHILDREN
Our little guests are especially close to our hearts. Therefore, all children receive a free helmet and further discounts when skiing together with their parents.
SERVICING BEFORE EACH RENTAL
Every ski and every board is serviced before the next rental. Not only are the edges sharpened, but the base is also re-waxed.
ATTRACTIVE DISCOUNTS FOR GROUPS
If you are travelling in a larger group and hire equipment from Bayard, you can expect special discounts. You can find out more about this when you book your group.
Ski rental in Zermatt – choose your category at Bayard
Snowboard rental in Zermatt – choose your category at Bayard
A WIDE RANGE OF MODELS FOR DIFFERENT REQUIREMENTS
Every winter sports enthusiast is guaranteed to get their money's worth here
Every winter sports enthusiast is guaranteed to get their money's worth here
There are three different categories of skis to choose from: The 4* ski includes classics for safe turns in any terrain as well as models from this season. The 5* category offers a wide range of models for every discipline and every curve radius. In the 6* category, you will find exclusive and particularly high-quality models from premium brands that make a day on the slopes a real experience.
In the area of snowboards, there are two different categories in the rental: The 4* snowboards are a good choice for beginners and novices due to their forgiving construction. The 5* snowboards, on the other hand, are characterised by their high turning ability and cut a good figure both on smooth slopes and in powder.
IMPRESSIONS FROM OUR SKI AND SNOWBOARD RENTAL IN ZERMATT
Perfectly prepared equipment for piste and powder
THIS IS HOW SKI AND BOARD RENTAL WORKS
Reserve online and collect on site on the first day of hire
Thanks to the convenient online reservation, you can easily rent your equipment from home or on the road: After selecting the desired date and the preferred shop, you can choose from various categories of skis, boards and numerous accessories. Depending on your experience and terrain, you can add your desired products directly to the shopping cart.
You can also add the necessary equipment for your companions. Various payment methods are available for online payment. After you have successfully completed your booking, you will receive a confirmation e-mail with a code. You can show this code when you pick up your equipment on the first day of the rental. Your prepared equipment is already waiting for you there. Simple and uncomplicated!