Gift vouchers
The ideal gift choice for sports enthusiasts and fashion lovers
Would you like to give your loved ones a gift voucher from Bayard? Thanks to our convenient online form, you can easily book your desired voucher via the website. After payment, the voucher will be sent by post to the address given. The voucher can be redeemed directly in our shops in Zermatt.
Numerous products from the most diverse areas await you here: Winter sports, summer sports as well as leisure fashion and streetwear. With this gift voucher, you are sure to hit the bull's eye and give the recipient a great shopping experience as well as high-quality products.
Find shops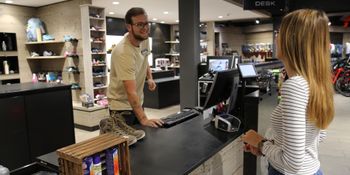 ORDER A GIFT VOUCHER CONVENIENTLY AND EASILY NOW
Vielen Dank für deine Bestellung!
Du erhältst die Bestätigung des Gutscheins per E-Mail
In der E-Mail findest du die Bankverbindungdaten. Bitte überweise den definierten Betrag an das folgende Konto. Sobald die Vorauszahlung bei uns eingegangen ist, wird dein Gutschein an die angegebene Adresse versandt. Falls du offene Fragen hast, kannst du dich jederzeit gerne an uns wenden über das Kontaktformular.
We have sent you an email containing complete banking details. Please transfer the amount within 7 days.
THESE ADVANTAGES OFFER YOU THE GIFT VOUCHERS
REDEEMABLE DIRECTLY IN THE SHOP
Gift vouchers can be redeemed in the Bayard Shops on Bahnhofplatz. The amount of the voucher will then be credited to your invoice.
INDIVIDUAL AMOUNT POSSIBLE
The amount of the voucher can be set individually and chosen freely. In addition to the most frequently used amounts, you can also enter your own amount in the form.
NO VOUCHER EXPIRY DATE
The vouchers you buy are always valid and have no expiry date. This means you can redeem the voucher at any time when you have a product in mind.
NO FEE FOR PROCESSING
The amount selected for the gift voucher is also the amount that will be invoiced. No additional fees will be charged
WHERE CAN THE VOUCHER BE REDEEMED?
You have a free choice for your shopping pleasure
The voucher can be used on all products in the Bayard shops. Even those items and products that are currently on sale are included and not excluded from the validity of the voucher. The entire amount does not have to be redeemed at once. You can also split the voucher amount over several purchases.
The Bayard range offers a wide selection of products from the sports and fashion sector. You can look forward to many top brands and exclusive brands.
Note: The scope of the gift vouchers does not include online reservations. As the gift vouchers can only be redeemed in the shop on site, this is not valid for booking rental equipment online.